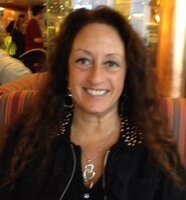 Elyssa A Warshall
Heaven gained another angel today. After a long illness, Elyssa Ann Warshall passed away at the Center for Hope Hospice Center in Scotch Plains on April 30th, 2022. She passed away peacefully, and surrounded by family and friends. She was 60.
Elyssa was born in Morristown, NJ and grew up in Morris Township, attending Morristown High and later graduating from UCAL (Santa Barbara, CA) . Upon graduation, she returned to the east coast and soon thereafter began a very successful management career with AT&T in Basking Ridge, NJ which she went on to eventually retire from after many years of dedication.
In the early 90's she met her life partner of 30 years, Rich "Bibby" Buhrman of Madison and in doing she made countless dear friends in the Madison area. Eventually the couple settled in Summit, NJ.
In 2019, not long after losing her sister Pam to lung cancer also at age 60, Elyssa was diagnosed with the same cancer, in a very late stage. However, despite the late stage diagnosis, she went on to exceed all expectations, living far longer than expected or typical of someone with such a diagnosis. This was due in part to her love of life, her indescribable courage, and a steadfast determination to beat the odds, to be the exception. She never gave up, even during the very difficult moments along her journey, when most would.
Elyssa is survived by her life partner Richard "Bibby" Buhrman, her mother Doris Warshall of Palm City, Florida, and many dear friends. Elyssa was predeceased by her father Ted, her sister Pam, and her beloved Jack Russell Fur baby "Reno."
In keeping with her wishes, Elyssa will be laid to rest in a family plot, following a private graveside service in Florida. In her Honor, the family requests that in the coming year you take a moment out of your life to do something nice for someone or an animal.