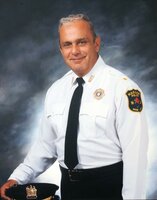 Donald R. Capen
Donald Richard Capen, 83, of Madison, NJ passed away peacefully on April 6, 2022.
Born in Montclair, Don was raised in Chatham, and later lived in Madison where he was a career police officer (badge #48) from 1960 to 1990, retiring after six years as Chief of Police. During his career, he graduated first in his class from the FBI National Academy, was co-founder of Project Community Pride (1976), and President of the Morris County Police Chiefs Association (1990). He later served as Mayor of his beloved hometown from 1992 – 1995.
Don will be fondly remembered by the many residents of his community which he faithfully served.
Don is predeceased by his parents, Donald Frank and Marion Dyer Capen, his sister Marion and brother Daniel. He is survived by his wife, Catherine of 60 years, his son Scott and his wife Colleen, daughter Kym and her husband Tim Ehrenburg, and daughter Donna and her husband Mark Lyons. He was also the proud grandfather of nine grandchildren and three great grandchildren.
Relatives and friends are kindly invited to attend a memorial visitation to celebrate Don's life on Saturday, May 21, 2022 from 2:00 PM to 5:00 PM at the Madison Memorial Home, 159 Main Street, Madison.
In memory of Don, please consider making a donation to Alzheimer's New Jersey (alznj.org ), 425 Eagle Rock Avenue #203 Roseland, NJ 07068.