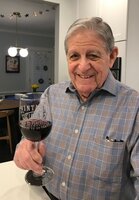 Charles J. Gero, Jr.
Charles Joseph Gero, Jr., of Berkeley Heights passed away on Thursday, February 3, 2022, at the age of 81. He died peacefully at home with his beloved wife Ellen and their daughters by his side.

Charles is survived by his high school sweetheart who became his beloved wife of 57 years, Ellen Gero (née Brennan) of Berkeley Heights; his two daughters, Dianne Palmieri and her husband Anthony & Debra Gero Schiff and her husband Brian; five cherished grandsons, Michael, Tyler, Zachary, Gavin & Brandon; several nieces, nephews, great-nieces & great-nephews; many cousins and dear friends.
In addition to his parents, Charles was predeceased by his brother, Robert Gero; and his sister, Bettina "Betty" Picone.
Charles was born in Morristown on March 2, 1940 to the late Philomena & Charles J. Gero, Sr. He was raised in Madison on Waverly Place with his brother and sister, and he was a graduate of Bayley-Ellard High School. He has very fond memories from his time at Bayley-Ellard. His most favorite was when he met Ellen and asked her to a dance under what is referred to now as "The Love Tree" which still stands on the property.

After graduation Charles enlisted in the United States Navy where he dedicated four years of service. He served aboard the U.S.S. Mount McKinley (AGC-7) for the majority of his Navy career, sailing to many different places around the world. Upon his honorable discharge in July of 1962, Charles entered into the US Navy reserves.
When Charles returned home from the service he married his beloved wife Ellen on September 12, 1964. The couple settled in New Providence where they lived for many years and raised their two daughters. In 2004 after retiring, Charles and Ellen relocated to Berkeley Heights. They were longtime parishioners of Our Lady of Peace Church in New Providence.

Before retiring, Charles had a long career with the MikroPul Corporation of Summit for several decades. He began his career there as a laboratory technician and became vice president of sales for the company after many years of hard work and dedication. He was a highly respected expert in his field and was well-versed in industrial filtration and pulverizing.
Charles was well-known for his incredible gardening and landscaping skills. His emerald green lawn always stood out in his neighborhood and was referred to as Yankee Stadium. He went to great lengths to grow beautiful flowers in his yard for all to enjoy. Charles enjoyed perfecting his golf game, watching the Yankees, was a classic car enthusiast, and was a big fan of Elvis Presley. He loved to have his home filled with friends and family who he could grill for and entertain. He was always first to hit the dance floor at any celebration.

Charles' most proud role was that of father, grandfather and uncle. He was so very proud of his 5 grandsons. He loved spending time with his family and he had countless friends.
He will be deeply missed by all who knew and loved him.
A celebration of Charles' life will include a visitation from 4:00PM to 8:00 PM on Tuesday, February 8, 2022 held at the Madison Memorial Home, 159 Main Street, Madison.
Relatives and friends are kindly invited to attend a Liturgy of Christian Burial held at 10:00 AM on Wednesday, February 9, 2022 at St. Vincent Martyr Church, 26 Green Village Road, Madison. For those that wish, you may attend the Funeral Mass virtually by visiting www.svmnj.org. For the safety of all, we respectfully require that all those attending the visitation and funeral services wear a mask.

Interment with military honors will follow at St. Vincent's Cemetery, Madison.

People wishing to honor Charles' lifelong commitment to charity can make donations in his memory to St. Jude Children's Research Hospital, 262 Danny Thomas Place, Memphis, TN 38105. Another local option is CSA - Community Service Association that provides assistance to residents in need, in his hometown, New Providence. CSA of New Providence can be reached at 360 Elkwood Avenue, New Providence, NJ 07974. You may donate through their website: csanewprovidence.org