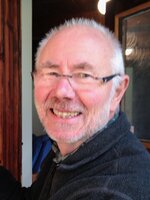 Kenneth John Hatley
In Loving Memory of Kenneth John Hatley "John", 79, who, after a long illness, passed away peacefully on Christmas Day at his home in Madison, NJ.
Born in London, England, John grew up and was educated in Bristol, UK where he became a highly accomplished Mechanical and Marine Engineer. It was at work where, in 1968, he met Chris, his wife of 53 years. Soon after, he joined Exxon, and, in 1976, moved with his family to Madison, NJ. John fell in love with the town and lived there for 45 years.
In 1986 John formed Nova Technology, Inc. With Chris's support, the two built the company from the ground up, starting in the basement. With John's eye for creating simple yet elegant solutions, Nova matured into an innovative and successful engineering firm specializing in the design and fabrication of inspection robotics and custom machinery. He fully retired in 2019.
John and Chris travelled extensively all over the world, with remarkable trips to six continents. Some of his favorite trips included visiting Everest basecamp and scuba diving in Australia. John also spent many happy years with his friends and family at their Catskill farm in Roxbury, NY. Other passions included automobiles, sailing, and bringing old machines back to life and their former glory. Well into his sixties, he re-discovered skiing and spent winters skiing down the beautiful mountains of NY.
In addition to his wife Chris, John is survived by his brother Andrew, son Mark, son Richard and wife Leah, and their children Lyla Fawn and Graham.
Relatives and friends are kindly invited to attend a memorial visitation held on Saturday, January 15, 2022 from 1:00PM to 4:00PM at the Madison Memorial Home, 159 Main Street, Madison, NJ.
In lieu of flowers, the family invites you to make donations in support of the great work of the Madison Volunteer Ambulance Corps.