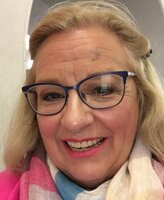 Martha Suhr Rolland
75, former New Vernon resident, talented artist.
Martha Suhr Rolland, 75, of Bonita Springs, FL passed away peacefully on Thursday, December 9, 2021 after a short battle with cancer.
Martha was born on October 14, 1946 in Elyria, Ohio to the late Dr. Arnold Wesley Suhr and Jean Scott Suhr. She spent her childhood in Ohio, graduated from Elyria High School and in 1968 from Bowling Green State University, majoring in Art & Art Education.
In 1969, she married Michael Rolland, who she first met while he was a student at Stanford University, California. She then joined Michael in Edinburgh, Scotland.
In Edinburgh, she set about building a career as an artist. While teaching art in high school, she attended the Edinburgh College of Art and had her work accepted by major exhibitions including the Royal Glasgow Institute of Fine Art. In 1974, she had a one woman exhibition at the Saltire Gallery in Edinburgh and sold a remarkable 28 of 32 paintings on exhibit.
In 1977, the Rolland family moved to Summit, NJ. Martha became very active with the Summit Art Centre (now the NJCVA) as a Student, Exhibitor, and Volunteer, including running a major fund raising auction. She exhibited her paintings in New Jersey and in New York City.
She increasingly devoted more time to her family, a highlight being an annual family vacation in Scotland each summer. She also loved to entertain. She was a talented chef and helped found a gourmet group in 1982, which still meets to this day.
In 1992 she moved to New Vernon, NJ and returned to her painting. She also joined both the New Vernon Garden Club and the Madison Garden Club where she made many new and lasting friends.
At this time she joined the Board of Trustees of Morristown Beard School for six years, sharing her perspectives as a former teacher and co-managing an annual fund raising auction. Martha had a very warm, low key and effective leadership style which contributed to a new record for the event.
In 2002 Martha and Michael moved to Bonita Springs, FL, but continued to spend their summers in New Vernon and St. Andrews, Scotland. Martha was an active member of the Bonita Centers for the Arts as a student in master classes and as an exhibitor in the Naples area. In the last year she was the proud winner of two Best in Show awards, her first ever Best in Shows, at the tender age of 75.
Martha is survived by her beloved husband of 52 years, Michael Rolland; by her loving sons, Christopher and Mark, both of New Vernon; by her beloved daughters-in-law, Anne and Vanessa; and her five grandchildren Kendall, Fiona, Cameron, Jackson & Andrew.
There will be a private family funeral. A Celebration of her Life will be held in the Spring.
Arrangements are under the care of the Madison Memorial Home. For online condolences please visit www.madisonmemorialhome.com
In lieu of flowers, donations may be made in Martha's memory to The Bonita Centers for the Arts, 26100 Old 41 Road, Bonita Springs, FL 34135 or online at www.artcenterbonita.org

Please mark your donation " In Memory of Martha Rolland ".