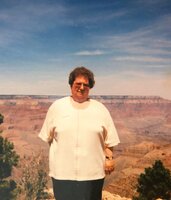 Carmella Pico
Carmella L. Pico, 89, a lifelong resident of Madison, passed away on Wednesday, November 24, 2021, at her home surrounded by the love of her family.
Carmella worked as a Bookkeeper for State Electronics, East Hanover. Following her retirement, she continued her clerical work at various temporary positions. Carmella enjoyed traveling, she had seen all the US and most of Europe. She was an avid camper and spent time in various areas of Pennsylvania, Williamsburg, VA, and New Jersey. Carmella was dedicated to her family, always available to help in any way she could. She was a devout member of St. Vincent Martyr Church, Madison.
Carmella is predeceased by her parents Joe G and Carmella Pico, sister Rosalie Cummings and brother Michael Pico. She is survived by her sister Ann Hampson and many nieces and nephews.
A memorial mass will be held on Wednesday, December 1, 2021, 10:00AM at St. Vincent Martyr Church, Madison. Interment will follow at St. Vincent's Cemetery, Madison. *For the safety of all, the family respectfully requests that all those attending the visitation and funeral services wear a mask regardless of vaccination status.* Arrangements are entrusted to the care of Madison Memorial Home.
In lieu of flowers donations may be made in her memory to Shriner's Children's Hospital, https://donate.lovetotherescue.org/.