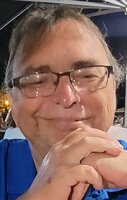 Luigi P. Ciccarelli
Luigi Pasquale Ciccarelli, of Manassas, VA (formerly of Madison, NJ), passed away peacefully at his home surrounded by the love of his family. He was 58.
Luigi was born in Port'Anzio, Italy on December 18, 1962 to his loving parents, Carmine and Michela Ciccarelli. He was raised in Italy until age eleven, when the Ciccarelli family emigrated to the United States. They settled in Madison, New Jersey where Luigi, his two brothers, Giovan and Carmine, and their sister Elena were raised.
Luigi was a 1980 graduate of Madison High School. He was a bright and talented young man, excelling in both his studies and sports. From his sophomore year through senior year, Luigi played soccer on the high school team. He was a prized player and eventually became captain of the team. Luigi went on to earn his bachelor's degree in computer science, and relocated to Manassas, Virginia over twenty years ago. He later accepted a position as a technical architect with Inova Healthcare of Northern Virginia. He was an active member of his community and he treasured the friendships he forged while in Virginia, especially with his colleagues.
Luigi was a devoted son, brother and friend. He loved his family and friends tremendously and was always there to help. He also loved animals, especially his German Shepherd, Scarlet and his two cats, Leo & Gillian. Luigi was an excellent cook, enjoyed watching sports and was proud of his Italian heritage.
Despite battling a terminal illness, Luigi took one final trip to Ischia, Italy this September with his brother Carmine to visit relatives and loved ones. Luigi loved and treasured life and never took anything or anyone for granted.
Luigi will be deeply missed by all that loved and knew him.
Luigi was predeceased by his mother Michela Ciccarelli in 2017. He is survived by his beloved father, Carmine Ciccarelli of Florham Park; one sister, Elena Ciccarelli of Florham Park; two brothers, Giovan "John" Giuseppe of Stratford, CT, and his wife, Noelle, and Carmine L. Ciccarelli of Freehold, NJ and his girlfriend, Leslie Barbadillo; many many dear Aunts, Uncles Cousins, friends & colleagues; and his cherished pets.
Relatives and friends are kindly invited to attend a visitation to celebrate Luigi's life from 4:00PM to 8:00PM on Tuesday, November 16, 2021, held at the Madison Memorial Home, 159 Main Street, Madison. Funeral services will begin at the funeral home at 9:00AM on Wednesday, November 17, 2021, followed by a 10:00AM Liturgy of Christian Burial at St. Vincent Martyr Church, 26 Green Village Road, Madison. For those that wish, you may attend the Funeral Mass virtually via livestream by visiting www.svmnj.org. *For the safety of all, the family kindly requests that all those attending the visitation and funeral services wear a mask regardless of vaccination status.*
Entombment will follow at Gate of Heaven Cemetery, East Hanover
In lieu of flowers, the family prefers charitable contributions in Luigi's memory to:
The American Cancer Society, P.O. Box 22478, Oklahoma City, OK 73123
or The American Heart Association, PO Box 840692, Dallas, TX 75284-0692