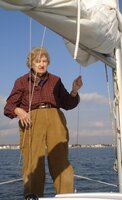 Norma Backster
Norma Backster (née Van Allen), a longtime Madison resident, was called home to the Lord on Friday, October 1, 2021, at the age of 93.
Norma was born in Newark, NJ on, October 31, 1927, to the late William and Marion Van Allen (née Treadwell).
Norma received her bachelor's degree in journalism from Syracuse University in 1949. She had a long career as the Director of Public Relations and Corporate Communications for Monroe Systems in Orange, NJ, and won more than 30 national and regional awards for creative communications during her time there. After retiring from Monroe, Norma served as the Director of Public Relations and Advertising for Felician College in Lodi, NJ.
Norma actively supported and fundraised for the United Way and was awarded 5 first place national awards for her charity work with them. She was also the recipient of 6 first place national awards for editorial writing and creative communications from the US Treasury Department. Normal also served on the Board of Trustees for the County College of Morris from 1976-1980, and earned 2 awards from the Freedom Foundation of Valley Forge for her work promoting US Savings Bonds.
In her retirement, Norma loved to travel and enjoyed sailing the Long Island Sound in her Catalina that she named "Sea Otter." Norma was a fiercely independent woman with a bright spirit and made many lifelong friends.
In addition to her parents, Norma was preceded in death by her beloved husband, Frank O. Backster; and her sister, Ardelle V. Elliot. She is survived by her cherished nephew, William Elliot of Bangor, Maine; and dear friends.
Services for Norma are being held privately for her family under the care of the Madison Memorial Home.