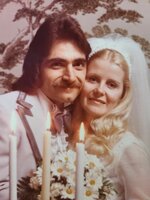 George Romeo
George J. Romeo, of Boonton, passed away peacefully on Thursday, September 30, 2021, at St. Clare's Hospital in Denville. He was 71.
George was born in Paterson, NJ on August 19, 1950, to Dominick and Sylvia Romeo (née DelMonico). He was raised in North Haledon with his 2 siblings.
George was a second-generation barber, taking after his father before him. His father, Dominick, opened Romeo's Barber Studio in Midland Park, NJ, a highly successful barber shop that became one of the oldest businesses in Midland Park. Being a barber came naturally to George, and he joined the family business at the age of 21, going on to later take over ownership of the shop after his father retired. George was a talented barber and took pride in doing things the old-fashioned way.
George married the love of his life, the late Marie Romeo, on May 25, 1976, and the couple lived in Hawthorne prior to settling in Wyckoff to raise their family. He adored his wife, children, and later his grandchildren immensely. George and Marie had a large Italian family and loved getting everyone together for the holidays.
George was a motorcycle enthusiast. He loved to ride Harley Davidson motorcycles and was very passionate about the sports of motocross and hare scramble racing. He and his son, George, participated in many motocross events together and won many championships. George also enjoyed boating, especially on Greenwood Lake and Lake George.
George will be remembered as a loving father and grandfather with a big heart, and he will be deeply missed by all who knew and loved him.
George was preceded in death by his father, Dominick Romeo, and his beloved wife, Marie Romeo. He is survived by one son, George Romeo and his wife, Christen; one daughter, Jessica Romeo and her husband, Brian Bieniowski; his mother, Sylvia Romeo; one brother, Dominick Romeo; one sister, Agnes Hall; three cherished grandchildren, Ethan Veres, Johnny Romeo, and Shane Romeo; and many nieces, nephews, and dear friends.
Services for George are being held privately for his family under the care of Madison Memorial Home.
In lieu of flowers, charitable contributions may be made in George's memory to the American Cancer Society, P.O. Box 22478, Oklahoma City, OK 73123.