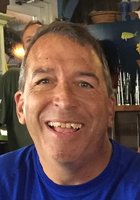 Donald Tulio Canizares
Donald Tulio Canizares, of Morris Plains, passed away peacefully on Sunday, June 13, 2021 at the age of 54.
Donald was born in Newark on July 10, 1966, to the late Tulio and Ellen Canizares (née McCormick). He was raised in South Orange with his three sisters, attended Morristown-Beard School in Morristown, and graduated from St. Thomas Moore school in Connecticut. He obtained his bachelor's degree from Springfield College in Massachusetts, class of 1989.
Donald had a long and fulfilling career as a sales executive. He was a very social man with numerous friends, many of which he had known since elementary school. He was regarded as a beloved brother and uncle to all who knew him, and to know him was to love him.
Donald had a wonderful sense of humor and was a bit of a prankster. He was always helping people in need and would give the shirt off of his back to anyone who needed it. He had a deep connection to his catholic faith and was a parishioner of St. Vincent Martyr Church in Madison. He enjoyed playing ice hockey and jet skiing, and he loved cars and monster trucks. He also had an affinity for children, which is why his friends' children all called him "Uncle."
Even though he had his issues with his health, Donald was never the type to complain about his ailments. Instead, he looked into the face of adversity with a smile. His big personality and generous spirit will be deeply missed by all who knew and loved him.
In addition to his parents, Donald was predeceased by his grandmother, Mabel McCormick, who he was remarkably close to. He is survived by his beloved sisters Susan Canizares and her husband Andres Torres of Michigan, Leonor Ciarlone and her husband Ralph of Massachusetts, and Joanne Greene of Texas; six cherished nieces Aidan, Renée, Melyssa, Tara, Marisa, and Jocelyn; his stepmother Joan Canizares; loving cousins; and many dear friends.
Relatives and friends are kindly invited to attend a memorial visitation from 2:00PM to 5:00PM on Sunday, June 20, 2021, held at the Madison Memorial Home, 159 Main Street, Madison. A Memorial Liturgy of Christian Burial will be celebrated for Donald at 10:00AM on Monday, June 21, 2021, at St. Vincent Martyr Church, 26 Green Village Road, Madison. For those that wish, you may attend the Funeral Liturgy virtually via livestream by visiting www.svmnj.org at 10:00AM on Monday. Interment will follow at Holy Rood Cemetery, Morristown.
In lieu of flowers, please make charitable contributions in Donald's memory to the National Kidney Foundation, 30 East 33rd Street, New York, NY 10016, or to Nourish NJ, 57 East Park Place, 2nd Floor, Morristown, NJ 07960.