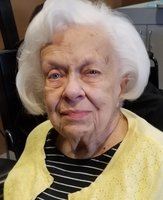 Martha Kasarda
Martha Kasarda, of Chatham, NJ, formerly of Munhall, passed away peacefully on March 18, 2021 at the age of 90.
Martha was born January 24, 1931 in Rankin to the late John and Barbara (Wilcha) Proch. She was the wife of the late Michael Kasarda, Jr.; mother of Jayne Kasarda; beloved grandmother of Patrick and Michaela Connor; sister of the late Mary Samarra, Michael Proch, Samuel Proch, John Proch, and Olga Defibaugh; and is also survived by her dear friend and sister-in-law, Katy Kasarda, and several wonderful nieces and nephews.
Martha attended Rankin High School where she met her sweetheart and future husband, Michael Kasarda. She went on to earn a degree at Point Park University that led to her career in laboratory services first at Homestead Hospital and later at Jefferson Regional Hospital. Martha and Mike eventually settled in Munhall where they lived for many happy years together. Mike died in 2007 and Martha moved to NJ to be closer to her daughter and grandchildren whom she adored. She resided at Juniper Village in Chatham where she made many new friendships. Martha will be remembered for her warm smile and open heart - she was a great mom, a perfect grandma and a good friend.
Family and friends will be received on Saturday, March 27, 10 AM, at the SAVOLSKIS-WASIK-GLENN FUNERAL HOME, INC., 3501 Main Street, Munhall, PA 15120. Masks and social distancing will be required. A Funeral Service will be held at 11 AM at the St. Gregory Russian Orthodox Church, Homestead. Interment will follow at Jefferson Memorial Park, Pittsburgh. Condolences may be left at www.swgfuneralhome.com.