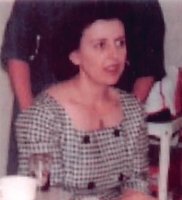 Anne Cervone Palma
Anne Cervone Palma, a lifelong Madison resident, passed away in her sleep peacefully at her home on Friday, March 12, 2021. She was 102.
Anne was born in Madison on December 7, 1918 to the late Philip and Rose (née Napolitano) Cervone. She grew up on North Street in a loving family of ten children, and remained on North Street throughout her life. She was a graduate of Madison High School and was affectionately referred to as "Lolitch" by those who knew her.
Anne worked as a secretary for Pat Sodano's law firm before becoming a realtor for Esposito Realty in Madison. She had a remarkably successful career as a realtor, becoming one of the first to sell one million dollars of real estate without having a drivers' license. Anne dedicated her life to helping others in any way she could. She did extensive work for Italian immigrants completing their immigration paperwork, finding them affordable real estate, and even helping them to learn English. She also did income taxes for lower income families before retiring at the age of 70. In her retirement, Anne's focus shifted to taking care of her home and her older brother, Frank.
Anne was a faith-filled woman and was a lifelong parishioner of St. Vincent Martyr Church in Madison. She was a loving and doting mother to her son, Charles, and a kind and caring friend to all who knew and loved her. Her spirit and presence will be deeply missed.
In addition to her parents, Anne was predeceased by her brothers Frank, Joseph, John, James, and Salvatore, and her sisters Antonette, Raphaelle, Theresa, and Yolanda. She is survived by her beloved son Charles Palma of Madison, and numerous nieces, nephews, and dear friends.
Relatives and friends are kindly invited to attend a visitation on Saturday, March 20, 2021 from 8:00AM to 10:00AM held at the Madison Memorial Home, 159 Main Street, Madison. A Liturgy of Christian Burial will be celebrated at 10:30AM directly following the visitation on Saturday, March 20, 2021 at St. Vincent Martyr Church, Madison. For those that wish, you may attend the Funeral Liturgy virtually via livestream by visiting www.svmnj.org at 10:30AM. Interment will follow at St. Vincent's Cemetery, Madison.
Those attending the visitation and funeral mass are required to wear masks and adhere to proper social distancing.