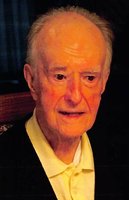 Dr. James B. Campbell, DDS
Dr. James Brand Campbell, DDS, a longtime Madison resident, died peacefully surrounded by his family on Friday, February 12, 2021 at his home. He was 95.
James was born at home in Morgantown, West Virginia to Jettie Gamille Brand Campbell and Jacob Ernest Campbell. He grew up in Morgantown, attending high school there before enlisting in the US Navy in June of 1943 to do his part during World War II. For three years James served aboard several Navy supply ships that operated throughout the South Pacific, until his honorable discharge in June of 1946.
After returning from the war, James attended the University of Pennsylvania where he received his DDS degree. He relocated to Madison, NJ in the early 1950's and served the community as a general dentist for close to 50 years. James established his first practice at 26 Main Street until he purchased the property on the corner of Greenwood Avenue and Brittin Street in 1954. Around the same time James met his beloved wife, Carolyn Marr Campbell, who lived directly across the street from him in Madison. The couple married on June 4, 1955. Carolyn was supportive of James' profession and instrumental in helping James establish his new practice on Greenwood Avenue. The couple settled in Madison in 1956 where they raised their family and have lived since.
James was delighted when his son-in-law, Dr. Roger Paetzell joined his practice. The two worked together for 13 years before James' retirement in 1994.
Throughout his life and especially in his retirement, James was an avid golfer. He was a lifelong member of Spring Brook Country Club in Morristown and he enjoyed perfecting his game. He was also club champion on several occasions over the years. James was a member of the Madison Masonic Lodge, as well as active member of the Madison Kiwanis club.
James is survived by his wife of 65 years, Carolyn Marr Campbell, one sister, Martha Carroll; two daughters, Catherine Paetzell and her husband, Dr. Roger Paetzell & Carolyn Krickusand her husband, John Krickus; two sons, James Andrew Campbell & David Campbell; six grandchildren; a great-grandson.
Due to the Campbell family's concern for everyone's well-being, funeral services for James will be held privately for his family. Funeral arrangements are under the care of the Madison Memorial Home.
Charitable contributions may be made in James' memory to Boys Town, PO Box 8000, Boys Town, NE 68010 or The Wounded Warrior Project, 4899 Belfort Road Suite 300, Jacksonville, FL 32256