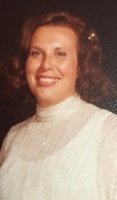 Vilma D'Ascoli
Vilma D'Ascoli, a longtime Berkeley Heights resident, died peacefully at her home on Thursday, January 28, 2021 surrounded by her loving family. She was 90.
Born and raised in Newark, Vilma was married to her beloved husband, the late Jerry A. D'Ascoli "Checky". The couple settled in Berkeley Heights where they raised their family. Vilma was a spiritual woman and a parishioner of the Little Flower Church in Berkeley Heights. She worked closely with her husband at their business " The Dugout Pizzeria " located in the Ironbound section of Newark.
Vilma was an innovative person who many years ago, before they reached mainstream popularity, took an interest in holistic medicine and alternative therapies. She visited holistic spas, did yoga and was an avid follower of Deepak Chopra's mindfulness and meditation.
Vilma was predeceased by her beloved husband Checky who passed in 1995; her father Terzo Casadidio, her mother Elvira, and her brother Nash Casadidio. She is survived by one son, Jerry D'Ascoli; three daughters, Jean D'Ascoli, June Truesdale & Lisa D'Ascoli; six grandchildren, Michael, Luca, Beau, Jacqueline, Jenna & Gianna; three great-grandchildren, Lillian, Stella & Augustine; and one expected great-grandchild.
Due to the D'Ascoli family's concern for everyone's safety and well-being, visitation and funeral services for Vilma will be held privately for her immediate family. Interment will be held privately at St. Teresa's Cemetery, Summit.
Funeral arrangements are under the care of the Madison Memorial Home.
In lieu of flowers, charitable contributions may be made in Vilma's memory to the Alzheimer's Association, 225 N. Michigan Ave., Fl. 17, Chicago, IL 60601 or Foundation Fighting Blindness, P.O. Box 45740, Baltimore, MD 21297-5740