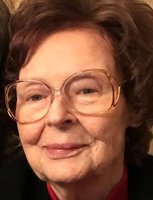 Anne M. Siegel
Anne M. Siegel (née Shuttleworth), a longtime Short Hills resident, passed away peacefully on Thursday, January 8, 2021 at St. Barnabas Medical Center. She was 89.
Anne was born on January 17, 1931 in Detroit, Michigan to the late Cornelius and Alice Shuttleworth. She grew up in suburban Detroit but spent weekends working on the family's small farm outside the city.
Anne obtained a bachelor's degree in zoology in 1953 from Cornell University, where she was also a member of The Phi Beta Kappa Society. Anne went on to graduate from the Weill Medical College of Cornell University in 1956 with an MD in psychiatry, as one of only three women in her graduating class. Anne interned at Lenox Hill Hospital in 1956 and went on to complete her residency in psychiatry at The Paine Whitney Psychiatric Clinic at New York-Presbyterian Hospital. She eventually opened her own private psychiatry practice, under the professional name of Anne M. Shuttleworth, MD, which she ran successfully for more than 50 years. Anne retired at the age of 81.
Anne married her husband, the late Joel Robert Siegel, on April 19, 1959. The couple moved to Short Hills where they designed and had their house built. Anne selected the property herself, with its valley view. They thoroughly enjoyed travelling together, especially to England where they would visit friends in Devon and the Lake District. Anne and Joel also adored the autumn colors, frequenting the White Mountains of New Hampshire. Anne was an avid reader and enjoyed works of historical fiction and history, focusing on US history (especially its Civil War era), Britain, and medieval Europe. Her love of history may well have stemmed from her own: Anne's ancestors included a Revolutionary War Minute Man. Anne collected stamps and glass objects as well, relishing the latter: She had a beautiful and extensive collection of paperweights.
Anne was a wise, quiet woman with an even temper, stoic and uncomplaining. Anne adored her family and always strived to make time for them, whether it be to talk, offer guidance (when sought), or even to play word, puzzle, and collecting games with her children (most recently via smartphone). She will be sorely missed by all who knew and loved her.
In addition to her parents, Anne was predeceased by her husband of 60 years, Joel Robert Siegel in 2019; her beloved son Peter Joel Siegel; and her brother Peter Shuttleworth. She is survived by her devoted daughter Erika Janet Siegel and Erika's husband David Pomper of Bethesda, Maryland; her cherished grandchildren Zachary and Harley Pomper; and dear friends.
Funeral services are being held privately for Anne's family under the direction of Madison Memorial Home.
Charitable contributions may be made in Anne's name to the National Girls Collaborative Project, which encourages girls in the pursuit of careers in science, technology, engineering, and mathematics (STEM).