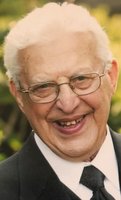 Paul DeSena
Paul DeSena, age 94, died peacefully on Friday, January 8, 2021 at Troy Hills Center in Parsippany. He was a lifelong Madison resident prior to relocating to Manahawkin with his late wife, Geraldine DeSena, in their retirement.
Paul was born in Madison on January 3, 1927 to the late Frank and Josephine DeSena. He was raised in Madison with his brothers and sisters and was a graduate of Madison High School. After graduation Paul served honorably in the United States Navy.
Paul met his beloved wife, Geraldine DeSena (née Piccola) and the couple married on April 9, 1950. They settled in their hometown Madison where they raised their family and were lifelong parishioners of St. Vincent Martyr Church.
Paul entered the field of dentistry as a young man and was trained as a dental technician. He was highly skilled in the field and was a master in creating dental prosthetics such as partials, bridges and dentures. Early in his career he was employed by a large dental lab located in Newark, and by age 40 Paul became an entrepreneur and established Paul DeSena Laboratories in Madison. Paul had a loyal network of dentists throughout NJ that relied heavily upon him to create, repair and modify dental prosthetics for them. Paul was extremely reliable and was ready at any hour on any day to assist his clients. He often worked long hours in order to complete projects, but he enjoyed his calling and helping others.
Outside of his career, Paul was very involved with his children and grandchildren growing up. He was an active member of the Madison community and a longtime member of the Madison Ambulance Corps. Paul coached "The Forum Club" team for Madison Little League Baseball and was past-president of Madison Little League Football for several years.
In 2000 Paul and Geraldine retired and made the decision to relocate to Manahawkin, NJ. They made many new friends and stayed active throughout their time there. They enjoyed many trips to Atlantic City and the occasional trip to Las Vegas. Paul especially loved playing card games like gin rummy with friends and family.
Paul was an avid golfer and fulfilled his lifelong dream in 2008 when he achieved a hole-in-one. Paul loved gardening and had a green thumb. He was especially talented at growing tomatoes.
Paul will be deeply missed by his family and friends, and he leaves behind an incredible legacy. He was a gentleman and a wonderful, always dependable husband and father. Paul was kind, generous and loved his family more than anything.
In 2012, Paul was predeceased by his wife, Geraldine DeSena (née Piccola). He was also predeceased by his brothers, Anthony & Tom DeSena; and his sister, Nancy Chiarolanzio. Paul is survived by one son, Frank DeSena and his wife Shana of Chandler, AZ; one daughter Donna Carragino and her husband Bob of Denville; his sister, Tina Chiarolanzio; three grandchildren, Sharyn, Bryan & Eli; six great-grandchildren, Christopher, Derek, Evan, Siena, Sofia & Nolan; and many nieces, nephews and dear friends.
Relatives and friends are kindly invited to attend the visitation held at the Madison Memorial Home, 159 Main Street, Madison on Wednesday, January 13, 2021 from 9:30AM to 11:30AM. A Liturgy of Christian Burial will be celebrated immediately following the visitation on Wednesday at 12:00PM at St. Vincent Martyr Church, Madison. For those that wish, you may attend the Funeral Liturgy virtually via live-stream by visiting www.svmnj.org and viewing the mass on the main webpage of the church beginning at 12:00PM. Interment will follow at St. Vincent's Cemetery, Madison.
** Visitors to the funeral home and church are required to wear masks and practice proper social distancing. In order to maintain a safe number of people in the funeral home, we kindly and respectfully ask that after paying your respects you give others the same opportunity by making your visit brief.**
In lieu of flowers, the family has requested that charitable contributions be made in Paul's memory to St. Jude's Children's Research Hospital, 501 St. Jude Place Memphis, TN 38105