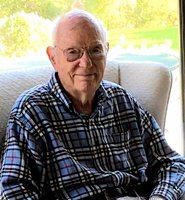 William A. Marshall
Bill Marshall died peacefully at home in Florham Park on Christmas morning 2020 with his wife of 64 years, Mary Ann, by his side. Bill was born on July 9th, 1926 in Houghton, Michigan and was the youngest of four siblings. His father, Newton Marshall, was a mining engineer who moved his wife and young family to Colombia, South America where they lived for many years experiencing adventures living in the jungle as well as becoming fluent in Spanish.
When Bill was in middle school, the family moved to Glen Ridge, NJ and Bill eventually graduated from Glen Ridge High School. Bill attended Princeton for two years then transferred to Yale with his brother Jim to enlist in the United States Naval Reserve program from which he graduated with a degree in Engineering in 1946. Bill served with distinction as a Lieutenant in the Korean War aboard the destroyer the USS Laffey.
Bill married Mary Ann Kidder in Lansdowne, PA on July 29th, 1956. They settled in Madison where they raised their three daughters and were active in the community. Bill served as President and then a Trustee of the Deer Lake Club of Boonton, NJ for many years (of which his father had been a founding member).
After retirement, Bill and Mary Ann enjoyed traveling and spending time with their grandchildren. Bill was an active member of the Madison Ambulance Corps for many years as well as a Great Swamp Watershed volunteer. Bill was an avid hiker and bird watcher and loved walking in the Great Swamp. Bill and Mary Ann shared a passion for classical music and Bill played his beloved violin well into his 80's. Bill and Mary Ann spent many happy summer vacations at Quisisana, a musical theatre lake resort in Maine.
Bill will be remembered as a gentleman to the end; a member of the "greatest generation" who loved his family and country. He was a remarkable man, a quiet man, with deep convictions about family, community, and service.
Bill leaves behind his beloved wife, Mary Ann, his daughters, Ellen Marshall Flanagan (husband Jim Flanagan), Jenny Marshall Weisburger (husband Michael Weisburger) and Elizabeth Marshall and seven beloved grandchildren, Alison, Emily, Ben, Will, Evan, Liam and Claire.
Funeral services for Bill are being held privately for his family under the direction of Madison Memorial Home.
Donations in Bill's memory can be made to the Great Swamp Watershed Association, the Audubon Society or the Madison Ambulance Corps.