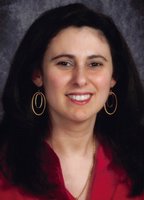 Agata Ardolino
Agata Ardolino, a longtime Madison resident, died peacefully on Saturday, December 5, 2020 at the age of 47.
Agata was predeceased by her parents, Francesco and Ida Ardolino. She is survived by her two beloved brothers, Sebastian Ardolino of Madison & Sabatino Ardolino and his wife Stella of Madison; two nephews, Francesco and Alessandro, and several extended family members and dear friends.
Agata was born in Naples, Italy on June 11, 1973 and emigrated to Madison as a young girl with her parents and two older brothers. She was raised in Madison and was a graduate of Madison High School, before earning her bachelor's degree at Fairleigh Dickinson University.
Agata was a special education teacher at the Calais School of Whippany for several years. She had a special gift for teaching children and found a great sense of purpose helping children with disabilities learn and excel.
Agata took pride in her Italian heritage and enjoyed trips back to Italy to visit her parents, who moved back several years before their passing. She loved to travel throughout Italy to appreciate and explore its rich history and beauty. Agata remained close with her family throughout her entire life, especially with her older brothers. After moving to the United States at a few months old, she was raised in a family that preserved both the culture and traditions of Italy and also adopted new American culture and traditions. Even though she was raised in America, she could easily relate to her relatives and friends and Italy.
As a young girl she loved learning about the latest music from the 70's and 80's from her brothers. She also learned a great deal about Italian soccer teams and the sport from her brothers and was an avid fan herself, especially for the Italian National team and Napoli team. She loved baseball, softball, and followed television shows that featured singing and performing.
Agata was a longtime parishioner of St. Vincent Martyr Church and her faith was important to her. She was a very caring person with a good heart that was always there to help family and friends in need. She will be deeply missed by all who knew and loved her.
Relatives and friends are invited to attend a visitation held on Thursday, December 10, 2020 from 9:00AM to 10:00AM at the Madison Memorial Home, 159 Main Street, Madison. A Liturgy of Christian Burial will be celebrated at 10:30AM at St. Vincent Martyr Church, 26 Green Village Road, Madison.
Agata will be entombed with her beloved parents in Naples, Italy.
** Visitors to the funeral home and church are required to wear masks and practice proper social distancing. In order to maintain a safe number of people in the funeral home, we kindly and respectfully ask that after paying your respects you give others the same opportunity by making your visit brief.
In lieu of flowers, charitable contributions in Agata's memory may be made to the Multiple Sclerosis Association of America, 375 Kings Highway North, Cherry Hill, NJ 08034