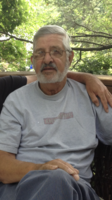 Carl Osborne, Jr.
Carl Osborne, a longtime Bloomfield resident, died peacefully on Sunday, September 6, 2020 at Chatham Hills Subacute Care Center. He was 88.
Carl was born in Rupert, West Virginia on November 11, 1931 to the late Carl, Sr. and Gladys Osborne. He was raised in West Virginia before coming to Bloomfield, N.J.. Carl's father passed away when he was a young boy, and he was raised by his his mother and stepfather, A.C. Samples.
After graduating high school, Carl answered the call to serve his country, enlisting in the United States Army. He was stationed in Germany, durning the Korean War. After his honorable discharge, He married his beloved wife, the late Ann Osborne, in Kearny in 1957. The couple settled in Bloomfield where they raised their much loved sons.
Carl was a talented handyman and always helped his family with all kinds of home repairs. He refurbished vacuums and appliances and got them ready to sell. Carl began a career as a salesman, selling Kirby vacuums door to door. Eventually he was able to build his very own brick and mortar business in Bloomfield and he had great success in it.
Carl was an avid antique collector, especially of old Kirby vacuums. He was a genuine man who loved his family. He will be remembered as a devoted father and loving grandfather who will be deeply missed by all who knew and loved him.
In addition to his parents, Carl was predeceased by his beloved wife of 33 years, Ann Osborne in 1994; his brother, Clarence and his wife, Joyce; his sister, Gladys and his son, Derrick Osborne. He is survived by his devoted son, Douglas Osborne and his wife, Elizabeth of Madison, his grandchildren, Colleen and John; nephew, Michael and many dear friends.
A graveside service at Glendale Cemetery in Bloomfield, NJ for Carl will be held on Thursday, September 10, 2020 at 11:30AM.
In lieu of flowers, charitable contributions in Carl's memory may be made to The American Cancer Society, Somerset County Unit, 7 Ridgedale Ave# 103, Cedar Knolls, NJ 07927 or online at donate3.cancer.org.