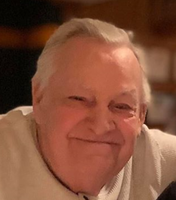 Carl McKenzie
Carl McKenzie, Sr, of Chatham, died peacefully on June 11, 2020 surrounded by family at Kindred Hospital in Dover, NJ. He was 77 years old.
Carl was born April 16, 1943, in Edinburgh, Scotland to the late Carl and Jessie McKenzie. He was the youngest of 11 children.
Carl married his beloved wife Patricia in Scotland where their three children were born prior to immigrating to the United States in 1976. Carl was a proud Scotsman, and equally proud Scottish-American.
Carl settled in Madison, NJ with his family. He had a long career as a landscaper working for the Coviello Brothers Landscaping and the Chatham Hill apartments. In his retirement in 2006, Carl and his wife moved to Chatham, NJ.
Carl was a hard-working, generous and quiet man, who loved his family deeply. He especially cherished his grandchildren and was very proud of each of them. He loved to support their school and sporting activities. Not only was Carl an uncle, a great-uncle and a great-great uncle, he was often referred to as the "favorite" uncle by many nieces and nephews. Most of them still reside in Scotland, and he always looked forward to their visits to The States.
In his younger days, Carl had a passion for deep sea fishing, and in his later years, he enjoyed traveling to Scotland, Niagara Falls and Las Vegas. Above all, Carl treasured the simple things in life. He and his darling wife would often take trips to the local lakes including Spruce Run and Round Valley, where they would spend the day picnicking and enjoying each other's company.
In addition to his parents, Carl was predeceased by his 10 siblings. He is survived by his beloved wife of 54 years, Patricia Ann McKenzie (Paterson); his children, Jessie Ann and her husband Rick Garreffa of Chatham; Janet and her husband Bill Smith of Somerset; Carl Jr. and his wife Randi of Budd Lake; and six grandchildren, Rachel, Tyler, Jessica, Evan, Olivia and Carter.
Funeral services will be held privately for Carl's family and are under the direction of the Madison Memorial Home.