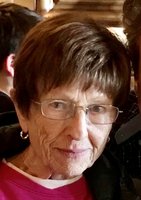 Pauline Falcone
Pauline Falcone, a lifelong Madison resident, passed away peacefully at her home on Thursday, May 21, 2020. She was 90 years old.
Pauline was born in Naples, Italy on March 3, 1930 to the late George and Mary Ardolino. She and her family emigrated to the United States when Pauline was 7 years old and settled in Madison, where she has lived ever since.
Pauline was a graduate of Madison High School. After eventually marrying her beloved husband, the late Vincent Falcone, the couple remained in Madison to be close to family. Pauline was a manager at the family business, Ardolino's, until the business was sold. She then stayed in the food industry, working at Mepco and Kelly's Deli in Florham Park.
Family was everything to Pauline. Having no children of her own, she treated her nieces and nephews like her own children and was the glue that held the family together. Pauline loved cooking and baking for her family, especially on Holidays. Her family fondly remembers her big family parties at her home. She was also particularly meticulous with her home and her garden, and she took pride in having them both very well-maintained.
Pauline was a kind, loving, and very giving person. She never missed a birthday, and took every chance to correspond with people whenever she could. She will be greatly missed by all who knew and loved her.
In addition to her parents, Pauline was pre-deceased by her beloved husband of over 50 years, Vincent Falcone; and her brothers Sam and Philip Ardolino. She is survived by her sisters, Rose Trunk and her husband Raymond of Madison and Joann DiPompeo and her husband Mario of Florham Park; many beloved nieces, nephews, grand-nieces, and grand-nephews; and many good friends.
Funeral services for Pauline are being held privately under the direction of Madison Memorial Home. Interment will be held at St. Vincent's Cemetery in Madison. A memorial mass for Pauline will be announced at a later date.
In lieu of flowers, charitable contributions in Pauline's memory may be made to The Madison Volunteer Ambulance Corps, ATTN: Treasurer, 29 Prospect St, Madison, NJ 07940 or at www.madisonems.org/content/donate, and to the American Heart Association, 7272 Greenville Ave, Dallas, TX 75231 or at www.heart.org/donate.