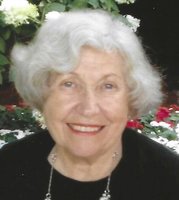 Alice Rowe
Alice Louise (Fisher) Rowe passed away peacefully on May 19, 2020 at Chatham Hills Subacute Care Center in Chatham, New Jersey at the age of 90. Alice was a longtime resident of Selinsgrove, Pennsylvania before moving to New Jersey to be closer to her daughter.
She was born September 4, 1929 in Hummels Wharf, Pennsylvania, a daughter of Charles R. and Mary F. (Beaver) Fisher. On August 16, 1952 she married Chester G. Rowe. They shared 48 years of marriage before his death in December 2000.
Alice was a graduate of Selinsgrove High School Class of 1947. She attended Lycoming College (Williamsport Dickinson Junior College) and received her diploma from the Franklin School of Science and Arts in Philadelphia where she studied x-ray technology. She interned at Sunbury Community Hospital and went on to work there for several years.
Growing up in Hummels Wharf with Rolling Green Park and its pool practically in her backyard, it was inevitable that Alice would develop a of lifelong love of swimming. She was a certified Red Cross Water Safety Instructor and taught swimming lessons at Rolling Green Park pool and later Selinsgrove pool during the summer months. She also served on the board of Selinsgrove Area Recreation Inc., the organization that built and managed the community pool.
Like her Mother and Aunt Harriet before her, Alice joined the Daughters of the American Revolution, Conrad Weiser Chapter, and was a member for over 40 years. She was a past Regent, chaired the Good Citizen program and served on many other committees. She was a lifetime member of the Snyder County Historical Society and served on the board of Packwood House Museum in Lewisburg where she was an active volunteer. She especially enjoyed decorating the museum for Christmas every year.
Alice loved to paint and watercolors were her favorite. She was a founding member of Arts Unlimited in Selinsgrove in the 1960s and a member of the Susquehanna Art Society. Throughout her life she enjoyed studying with local artists and took advantage of every opportunity that came her way to visit art museums and gallery shows.
She was a member of Sharon Lutheran Church, the Women's Association of Susquehanna University, the Susquehanna Valley Country Club, and served on the board of the American Heart Association for Upper Northumberland/Snyder County Division.
Alice always looked forward to spending time with her children and grandchildren and was known to go through many disposable cameras documenting the gatherings. She enjoyed playing bridge, searching out antiques at public auctions, listening to piano music, dancing, gardening, and even kayaking with her son off West Beach when she was in her 80s.
Alice is survived by her son Chester "Chuck" G. Rowe, Jr., his wife Julie, and grandchildren Emily and Daniel of Beverly, Massachusetts; daughter Marylou and her husband Bryan Fennelly of Madison, New Jersey; and several nieces and nephews. She was predeceased by her sister, Bernice M. Persing.
In lieu of flowers, donations in Alice's memory may be made to Sharon Lutheran Church, 120 S. Market Street, Selinsgrove, PA 17870 or to the Chester G. '52 and Alice F. Rowe Scholarship, Susquehanna University, 514 University Avenue, Selinsgrove, PA 17870.
Due to current health and safety considerations, her service and burial at Union Cemetery in Selinsgrove will take place at a later date.