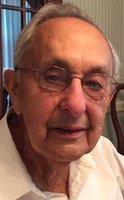 Francis X. Cuccaro
Francis X. Cuccaro, age 98 and lifelong resident of Madison, died peacefully at his home on Friday, May 15, 2020 with his family at his side. Francis passed just one month shy of his 99th birthday.
Francis was born in Madison on June 18, 1921 to the late Amodeo and Elizabeth Cuccaro. He was proud of the fact that he was raised and resided on Central Avenue in Madison for his entire life, at several different addresses over the years. Francis was a lifelong parishioner of St. Vincent Martyr Church.
Francis was a graduate of Madison High School. After a lifelong interest in engines, he began his career as a mechanic right after high school. He was an airplane mechanic briefly before transitioning to automobile engines.
In 1943 in the midst of WW2, Francis put his civilian career on hold to do his part and join the war effort. He was assigned to the 3541st US Army Airforce Unit and he served as an aerial gunner until after the war in 1946. Upon returning home after his honorable discharge, Francis picked up his career as a mechanic where he had left off.
Francis married his beloved wife, Jessie Cuccaro (nee Bozzi) on January 31, 1948. They knew each other for most of their lives prior to being married and they were inseparable. The loving couple recently celebrated 72 years of marriage.
Francis had a long career with C & C Motors, an Oldsmobile dealership in Madison. He was also a mechanic at O'Donnell Buick in Morristown. Francis was highly respected for his dedication, knowledge and professionalism. He was often called on after-hours for emergency vehicle roadside assistance, well before the service existed as it does today. In his retirement, Francis worked part-time at Dunne's Hardware in Madison.
Francis loved gardening and was well known for his impressive vegetable gardens. He enjoyed gardening well into his late 90's and gifting the many fruits and vegetables he grew with care to family and friends. Even when he was physically unable to work in his garden, Francis' neighbors and family filled in for him and he worked on an advisory level.
Francis was a devoted husband and an excellent father. He was a gentleman and lived his entire life as a good man. He will be deeply missed and forever remembered by all that knew and loved him.
In addition to his parents, Francis was predeceased by his sister, Catherine DePalma and his 7 year-old brother, Joseph Cuccaro. He is survived by his beloved wife of 72 years, Jessie Cuccaro (nee Bozzi) of Madison; his daughter, Barbara Eutsler and her husband, William of Florham Park; and many loving nieces, nephews, great nieces, nephews and great, great nieces.
Funeral services for Francis will be conducted privately for his family for the safety and well-being of all. Interment with military honors will be held at St. Vincent's Cemetery, Madison. Funeral arrangements are under the direction of the Madison Memorial Home. For notes of condolence to the family, please visit www.madisonmemorialhome.com
Charitable contributions may be made in Francis' memory to St. Jude Children's Research Hospital, 501 St. Jude Place, Memphis, TN 38105 or to St. Vincent Martyr Church, 26 Green Village Road, Madison, NJ 07940