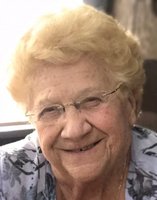 Carmela R. Del Giudice
Carmela "Mel" R. Del Giudice, a lifelong resident of Madison, was called home to the Lord on Friday, April 10, 2020 at the age of 90.
Carmela was born in Madison on February 8, 1930 to the late Gertrude and Nicholas Del Giudice. She was raised in Madison in a loving family of six children. Carmela graduated from Madison High School and attended the College of St. Elizabeth in Convent Station. Carmela had a long career with Bell Labs as a Data Entry Supervisor working in all three of their Murray Hill, Whippany and Piscataway locations over the years. In her retirement, she enjoyed spending time during the summer months at her beach home in Seaside Heights, NJ where she loved to have family and friends gather.
Carmela was a lifelong, faithful communicant of St. Vincent Martyr Church in Madison and an active part of the church for her entire life. She had a deep and close devotion to the Blessed Mother, serving on the Legion of Mary for several decades of its existence. Carmela also oversaw the Junior Legion of Mary for young women parishioners and a Sunday Nursery School that the group operated for the church for many years. Carmela was a member of the St. Vincent Martyr Rosary Society as well. She was a proud and active member of the Madison community throughout her entire life, volunteering every year for decades on the Madison Thanksgiving Parade Committee. Generations of children will fondly remember her as "Mrs. Claus", when she played the part for 25 years in the Madison Christmas Parade.
Carmela always put others before herself whether they were family or friends. Her warmth, kindness and heart of gold will be deeply missed and remembered forever by all that knew and loved her.
Carmela was predeceased by her parents, Gertrude (nee Chiarolanza) and Nicholas Del Giudice; her brother, Philip; her sisters, Angela Cosimelo, Anne Heilmann, Trudy Del Giudice; and a nephew, Joseph Heilmann, Jr.
She was survived by her sister at the time, Louise Gisoldi (1927-2021).
Currently survived by her sister, Mary Lou Jacobi; 14 nieces and nephews, Roseann Rello, Trudi Lo Sapio, Angela Kilduff, Anne Marie Gisoldi, Linda Palermo, Lou Ann Puglise, Joseph Gisoldi, Jack Jacobi, Karen Patten, George Jacobi, Maribeth Stankiewicz, Maureen Kane, Patricia Betz, and Nicholas Heilmann; 32 great nieces and nephews; 19 great-great nieces and nephews; and many dear friends.
A Memorial Liturgy of Christian Burial to celebrate Carmela's life will be held at 10:00AM on Saturday, September 25, 2021 at St. Vincent Martyr Church, 26 Green Village Road, Madison. The family understands that some may be unable to attend due to the pandemic. For those that wish, you may attend the Funeral Mass virtually via livestream by visiting www.svmnj.org
In April 2020 visitation and funeral services were held privately for the family. Interment held at St. Vincent's Cemetery, Madison.
Funeral arrangements are under the direction of the Madison Memorial Home. For notes of condolence to the family, please visit www.madisonmemorialhome.com
Charitable contributions may be made in Carmela's memory to St.Vincent Martyr Church, 26 Green Village Road, Madison, NJ 07940 or to the Madison Volunteer Ambulance Corps, 29 Prospect Street, Madison, NJ 07940.