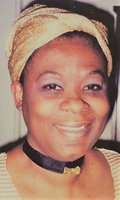 Nyanda Jennifer Bonfield
Empress Nyanda Jennifer Bonfield, was a longtime Madison resident, before moving to Edison. She passed away at her home peacefully, with her son by her side on Friday, January 31, 2020. She was 64.
Nyanda was born in Kingston, Jamaica, on May 18, 1955, to Kenneth Alexander and Muriel Louise Bonfield. She earned a Secretarial Associates Degree at Jamaica Commercial Institute. She spent most of her life in Jamaica before emigrating to the United States with her family in 1989, first settling in Madison, then South Orange for a brief time, and finally Edison 10 years ago.
Nyanda had a fulfilling career as a pediatric nurse for Union Pediatrics and as a self-employed courier. She was a celebrated reggae artist, radio/podcast personality, and promoter. She loved watching sports, especially soccer (football as Jamaican's call the sport) as an avid Liverpool fan, and basketball, where she rooted for the Knicks and the Celtics.
Nyanda adored spending time with her family, especially her grandkids. She was her family's biggest cheerleader and fiercest protector. Nyanda was interested in politics and education, and she was very proud of her culture and her people. She was a well-rounded and good-hearted woman who always looked to help minorities in any way she could.
Nyanda was pre-deceased by her father, Kenneth Alexander Bonfield. She is survived by her mother Muriel Louise Bonfield; her devoted son Hanif Brown and daughter-in-law Amy Bailey of Cedar Knolls; one brother Kenneth George Bonfield of Queens, NY; 5 cherished grandchildren Ethan, Nathaniel, Andrew, Michael, and Sofia; two nieces and one nephew; grandnieces and grandnephews; and many good friends and fellow artists.
Relatives and friends are kindly invited to attend a visitation to celebrate Nyanda's life on Saturday, February 8, 2020, from 12:00PM to 2:00PM at the Abundant Life Church, 43 S. Jefferson Road, Whippany, NJ. A funeral service will follow at 2:00PM. Cremation will be held privately.
Funeral arrangements are under the direction of the Madison Memorial Home.
In lieu of flowers, please consider giving a monetary donation to Nyanda's son, Hanif Brown and his family.