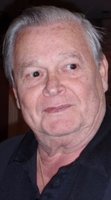 Robert F. Nembrotti
Robert F. Nembrotti, of Toms River, formerly of Upper Montclair, died peacefully on Sunday, November 10, 2019. He was 87.
Born in Manhattan on May 7, 1932 to the late Frank and Evelyn Nembrotti, Robert was raised in New York City. He served in the United States Marine Corps during the Korean War, prior to being honorably discharged.
Robert was introduced to his beloved wife, Patricia Nembrotti (nee Kimball) and the couple married on June 2, 1956. They first settled in Astoria, Queens where they raised their family. The family would later relocate to Upper Montclair NJ where they lived for many years with their family. In their retirement, Robert and Patricia moved to Toms River.
Robert had a long career as vice president of Caribbean Holidays of New York City, a company which provided wholesale travel packages to smaller, retail travel agencies. Robert had a passion for his work and travel which he enjoyed sharing with others.
Robert was an avid golfer. He was a collector of Americana and loved history, as well as anything to do with aviation, coins and stamps.
Robert loved his family tremendously and cherished the time he was able to spend with them, especially with his grandchildren, nieces & nephews.
In addition to his parents, Robert was predeceased by his beloved wife of 55years, the late Patricia Nembrotti (nee Kimball). He is survived by one son, Stuart Nembrotti and his wife, Carol of Randolph, NJ; one daughter, Carolyn Martin and her husband, Gary of Colombia, NJ; two sisters, Adriene Hawkes of Casa Grande AZ & Erma Flynn of Goleta, CA; his grandchildren, Katharine Martin , Michael Nembrotti and his wife, Robyn; one great-granddaughter, Athena Nembrotti; and many dear nieces and nephews.
Robert will be interred at Greenwood Cemetery in Brooklyn, with military honors, at a private family graveside service.
Charitable contributions may be made in Robert's memory to St. Jude Children's Research Hospital, 501 St. Jude Place, Memphis, TN 38105 or by using this link.