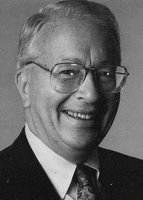 Thomas J. Swartz, Jr.
Thomas J. Swartz, Jr., a longtime Chatham Township resident and retired textile executive, died peacefully on Friday, October 18, 2019. He was 92.
Mr. Swartz was born on September 24, 1927 in Glen Ridge to the late Thomas J. Swartz Sr. & Helen Swartz (nee Van Orden). The product of a long lineage of early American settlers, his mother was a direct descendant of Nicasius De Sille, 17th c. Adjutant General in New Amsterdam to Dutch Governor Peter Stuyvesant. His father descended from John Mickley, a Pennsylvania Dutch farmer who rescued the Liberty Bell from British-occupied Philadelphia during the American Revolution.
Raised in South Orange, Mr. Swartz was a 1945 graduate of Colombia High School. A member of the Dartmouth College Class of 1949, Mr. Swartz served honorably in the US Army and returned to Dartmouth's Amos Tuck Business School where he earned his MBA in 1951.
Mr. Swartz entered family-owned Thomas Textile Co., New York, a manufacturer of better infant and toddler's playwear where he spent his entire career developing the nationally recognized "Thomas" Brand, sold to department & specialty stores nationwide.
He married the late Catherine Ann Phillips in 1952. They settled in Short Hills where they raised three sons and where Tom volunteered in many community endeavors, from coaching Millburn-Short Hills youth sports, to the many ministries and programs of Christ Church and the Old Guard of Millburn-Short Hills.
A longtime member of the Rock Spring Club in West Orange and parishioner at Christ Church in Short Hills, Mr. Swartz served on the Boards of the NJ Seniors Golf Association and the Childrenswear Manufacturers Association. He was also a Lifetime Recipient of the distinguished Dartmouth Alumni Award and the Lifetime Achievement Award from the Episcopal Diocese of Newark.
Mr. Swartz is survived by his three devoted sons, Thomas J. Swartz III of Osprey, FL, Gary R. Swartz and his wife, Sara (nee Doremus) of Chester Twp. and Craig A. Swartz and his wife, Karen (nee Eldracher) of Chatham Twp., his sister Nancy Rowe of Lake Elmo, MN, and four adoring grandchildren whom he cherished, Kathleen, Elizabeth, Kyle and Kurt Swartz.
A memorial service to celebrate Tom's life will be held on Saturday, November 23, 2019 at 11AM at Christ Church, 66 Highland Ave, Short Hills, immediately followed by a reception for his family and many friends. Interment will be private. Funeral arrangements are under the direction of the Madison Memorial Home. For further information or to share condolences with the family, visit www.madisonmemorialhome.com
Please omit flowers. The family has requested charitable contributions be made in Tom's memory to: Gift Planning Office at Dartmouth College, 6066 Development Office, Hanover, NH 03755 (in check Memo please indicate: "Tuck School of Business in Memory of Thomas J. Swartz Jr.")