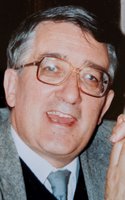 Dr. John L. Elias
Dr. John Lawrence Elias, a longtime Madison resident, died peacefully at home on Wednesday, September 25, 2019 surrounded by the love of his family.
John was born on December 23, 1933 to the late George and Josephine Elias. He was raised in Philadelphia and settled in Madison 42 years ago with his beloved wife, Dr. Eleanor J. Flanigan and their cherished daughters.
John's incredible career in education and religious education began while serving the church through his ministry in the Diocese of Allentown. John went on to earn his doctorate in philosophy of education at Temple University. He was a professor at LaSalle University, Temple University and Fordham University. At Fordham University, John developed three doctoral programs, and mentored over 85 doctoral students, many who are now world-renowned theologians, Bishops, and 3 University presidents. He wrote over 15 books and hundreds of articles on religious and adult education, and social justice. John's dedication to his field of expertise and catalog of work was widely renowned. He was selected as one of the 100 most influential Christian Educators of the 20th Century.
John was always there for his family and he was their rock. He was a dedicated and loving husband, father, grandfather and friend. His wisdom, warm nature and intellect will be deeply missed by all who knew and loved him. He leaves behind an immeasurable legacy from his years as a professor, mentor and philosopher that will live on indefinitely.
In addition to his parents, John is predeceased by his beloved grandmother, Maria Anastasi, and by his brother, George Elias. He is survived by his loving wife of 47 years, Dr. Eleanor J. Flanigan, of Madison (professor emerita of Montclair State University); his two daughters, Rebecca J. Elias and her husband, Christopher Dodson of West Deptford & Rachel Elias Reed and her husband, Russell of North Plainfield; his sister-in-law, Helen Elias; three cherished grandchildren, Julia Violet Elias Dodson, Kayla Josephine Reed & Zachary John Reed; many nieces and nephews, and countless friends and colleagues.
Relatives and friends are kindly invited to attend a visitation to celebrate John's life on Tuesday, October 1, 2019 from 4:00 PM to 8:00 PM at the funeral home. Funeral services will begin at 9:00AM on Wednesday, October 2, 2019 at Madison Memorial Home, 159 Main Street, Madison, followed by a 10:00AM Liturgy of Christian Burial celebrated at St. Vincent Martyr Church, Madison. Interment will follow at St. Vincent's Cemetery, Madison.
In lieu of flowers, charitable contributions may be made in John's memory to the Fordham University Graduate School of Religious Education, Fordham University, Office of Development, 45 Columbus Avenue, 8th Floor, New York, NY 10023 or to the Sr. Regina Flanigan, IHM Fund at Cristo Rey Philadelphia High School, 1717 W Allegheny Ave, Philadelphia, PA 19132