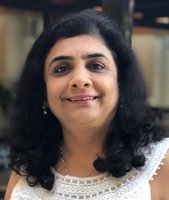 Monica "Mona" Vazirani
Monica "Mona" Vazirani, of Parsippany, passed away peacefully on Saturday, July 27, 2019 at Morristown Medical Center after a valiant battle with cancer. She was 53.
Mona was born in Baroda, India on July 3, 1966 to Kishin and Savitri Magnani. She was raised in India and attended university there. She relocated to the United States in 2000 with her beloved family and settled in Parsippany. Mona was the director of operations at Collabera in Morristown and she took great pride in her career, being a part of the same company for 19 years and building lifelong bonds.
Mona loved helping people and she had a tremendous love for India. She always tried to give back any way she could to those less fortunate there. Mona would often collect and donate food, clothing and supplies for children in impoverished communities of India. She enjoyed traveling in general and taking trips to visit her parents and other family.
Mona was a strong-willed person and her family was paramount in her life. When she was diagnosed with terminal cancer she fought valiantly and beat the odds. By her own will, she extended her life another three years. She did an enormous amount of research and used both holistic and conventional medical approaches to fight and extend her life when experts told her it was not possible. Her family plans to use all of her research and her story to create a platform to help others fighting the same form of cancer.
Mona is survived by her parents, Kishin and Savitri Magnani of India; her beloved husband, Anil Vazirani; one son, Yash Vazirani and his wife, Monica Mohan of Boston, MA; one brother, Amit Magnani in India; and countless dear friends.
Relatives and friends are kindly invited to attend Mona's Hindu Funeral Rite on Tuesday, July 30, 2019 from 11:00AM to 11:45AM at the chapel at Somerset Hills Memorial Park, 95 Mt. Airy Road, Basking Ridge, NJ followed by a visitation from 11:45AM to 12:45PM at the chapel. Cremation service will follow.
In lieu of flowers, a charitable fund is set up in honor of Mona's giving legacy at the following link: https://www.mightycause.com/story/Monavazirani