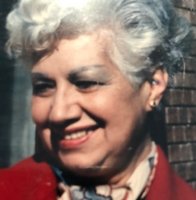 Filomena T. Saccone
Filomena T. Saccone, of Deerfield Beach, Florida (formerly of East Hanover), entered in to eternal rest peacefully on January 28, 2019. She was 90 years old.
Filomena was born in Brooklyn, NY on May 4, 1928 to the late Stella Gatta and Paul Cappola. She later would raise her family in Dobbs Ferry, NY with her beloved husband of almost 50 years, Vincent Saccone.
Filomena had a career as a realtor in Dobbs Ferry, but her primary focus was taking care of her beloved family. In her earlier years she enjoyed traveling to different countries. Later in life, Filomena enjoyed playing bingo, going out with her friends, and spending time with the Senior Citizens of East Hanover and Deerfield Beach.
Filomena was predeceased by her husband, Vincent Saccone in 1998, her daughter-in-law, Carol in 1997; and her son, Nick in March of 2019. She is survived by her son, Paul and his wife, Linda of Madison; her daughter, Teresa and her husband, Stewart of England; and her 6 grandchildren, Lauren, Katherine, John, James, Phillip, and Jonah.
Relatives and friends are kindly invited to gather for a memorial visitation to celebrate Filomena's life on Saturday, March 30, 2019 from 12:00PM to 1:00PM at the Madison Memorial Home, 159 Main Street, Madison, followed by a 1:00PM memorial service at the funeral home.