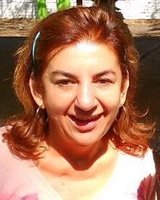 Luz Mery Moncada
Mrs. Luz Moncada (nee Giraldo), age 64, of Rockaway, passed away peacefully at her home on Monday, July 3, 2017 after a courageous battle with cancer. She was surrounded by her beloved family.
Born in Montenegro, Colombia, Luz moved to Miami, FL 30 years ago. She then moved to Morristown and more recently to Rockaway. Luz was known for her tremendous love and caring nature by her family and friends. That quality of caring for others extended through to her career. She was a home health aide with Bayada Home Health Care in Dover, caring for the sick and elderly who relied upon her kindness and compassion on a daily basis.
Luz was a member of Inglesia De Dios Ministeria, the church in Dover which she attended regularly.
She was predeceased by her beloved husband, Luis Moncada, and her father, Hector Giraldo. She leaves behind her mother, Ligia Giraldo (nee Osorio) of Colombia; her two sons, John Moncada and Ernesto Moncada, both of Rockaway; her daughters, Patricia (Luz) Moncada of Rockaway, and Diana Moncada of Colombia; several brothers and sisters; six cherished grandchildren; and many good friends.
Relatives and friends are invited to attend the vistitation for Luz which will be on Wednesday, July 5, 2017 from 4PM to 8PM, with a funeral service at 5PM, held at the Douglas R. Loikith Funeral Service (Tuttle Funeral Home building), 272 State Highway 10, Randolph, NJ. Interment will be held in Colombia.