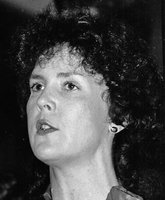 Gail L. Barton
Gail L. Barton, of Rockaway, passed away peacefully on Sunday, March 18, 2018 at University Medical Center in Newark, after a long illness. She was 63.
Gail leaves behind her two brothers, Bruce Barton and his wife, Elizabeth of Ventura, CA & Brent Barton and his wife, Joan of Glen Gardner; one niece, Katie Barton; one nephew, Alec Barton; and many good friends. She was predeceased by her beloved parents, Oliver and Marjorie Barton; and her sister, Beth Ann Barton.
Gail was born in Morristown and was raised in Florham Park. She was a long-time resident of the Denville-Rockaway area. Gail earned her bachelor's degree in education from Trenton State College in 1977 and eventually earned her master's degree in special education from Kean University in 1991. She loved teaching and had a gift for helping children with disabilities learn. Before retiring in 2008, Gail was a special education teacher at ECLC Special Education School of Chatham for many years.
Gail was a woman of great faith in God and was extremely active in Christ the King Church of Denville. She had a great appreciation for all of God's creations and loved gardening and animals. She had a special place in her heart for her shih tzu, Aubrey. Gail also loved painting nature scenes and specialized in watercolor, oil and painting in other mediums.
A visitation to celebrate Gail's life will be held on Friday, March 23, 2018 from 10:00AM to 12:00PM at the Madison Memorial Home, 159 Main Street, Madison, followed by a 12:00PM funeral service held at the funeral home. At the family's request, interment will be held privately.
Charitable donations can be made in Gail's memory to ECLC of NJ Chatham School, 21 Lum Ave, Chatham, NJ 07928.
Condolences to the family may be made online by visiting our website at www.madisonmemorialhome.com