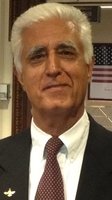 Iradj Yektashenas
Iradj Yektashenas, of Summit, passed away peacefully at his home on Sunday, March 18, 2018, surrounded by his family. He was 78.
Iradj leaves behind his beloved wife of 42 years, Mitra Yektashenas; his two cherished daughters, Behin Yektashenas and her husband, John Harmsen of Morristown, NJ & Bita Yektashenas and her husband, Sohrab Faramarzi of Hopkinton, MA; one brother; two sisters; many nieces, nephews, and good friends. Iradj was also blessed with one granddaughter, Liana Faramarzi.
Iradj was born in Yazd, Iran on November 26, 1939 to the late Shahriar and Morvarid Yektashenas. He immigrated to the USA where he studied English at NYU and Baylor University and ultimately earned his bachelor's degree in electrical engineering at Oklahoma University before settling in Summit with his beloved family over 35 years ago. Iradj was an accomplished electrical engineer with several companies throughout his career including JCP&L, PSE&G and Lucent Technologies. He was talented in his field of work and well respected among his peers. Iradj retired in 2011.
Iradj was a thoroughly devoted family man and his generosity was well known through his dedication to raising funds to support impoverished families. He lived his life by the tenets of Zoroastrianism - good thoughts, good words and good deeds, selflessly helping the underprivileged and being good and kind to others. He enjoyed spending time with his family and friends, gardening, the outdoors, traveling, and animals, especially walking his dog Meshky at the park. Iradj was also very fond of poetry, especially from Ferdowsi's Shahnameh and was well known for reciting poems by heart whenever the occasion arose. He had a big heart and was an extremely strong, charismatic, and proud man and will be deeply missed by all who knew him.
A visitation to celebrate Iradj's life will be held on Saturday, March 24, 2018 from 9:00AM to 10:00AM at the Madison Memorial Home, 159 Main Street, Madison, followed by an 10:00AM Zoroastrian Funeral Service held at the funeral home. Committal prayers will follow prior to cremation at Somerset Hills Memorial Park, Basking Ridge.