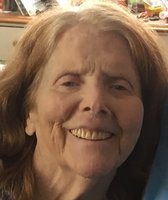 Patricia "Pat" Godlewski
Patricia "Pat" Godlewski (nee Underwood), of Florham Park, passed away peacefully at her home on Friday, January 5, 2018, surrounded by her family. She was 73.
Pat is survived by her beloved husband, Stanley Godlewski; one son, Scott Seibel and his wife Jennifer; one step-son, David Godlewski and his wife Lisa; one daughter, Trish DeVore and her husband Jim; two step-daughters, Sharon Muse and her husband Dave, and Pam Godlewski; one brother, Andrew Underwood; two sisters, Ellen Jordan and her husband George, and Eileen Underwood and her husband Richard Rowlands. Pat was also blessed with three grandchildren, Alex, Dante, Dashiel; and four step-grandchildren, Katie Meehan & Richie, Michael and Allison Becker.
Pat was born in Chicago, IL on October 17, 1944 to the late Howard and Ellen Underwood. She was raised in Chatham Borough and lived in Florham Park for the last 20 years. Pat had a career as a court administrator with the Borough of Madison for many years, before her retirement. She was also a parishioner of Holy Family RC Church in Florham Park. Pat loved her family tremendously and had a special place in her heart for collecting Disney memorabilia, she will be deeply missed by many.
A funeral service will be held at 11:00AM on Wednesday, January 10, 2017 at Somerset Hills Memorial Park Mausoleum, 95 Mt. Airy Road, Basking Ridge, followed by entombment. Relatives and friends are invited to attend a visitation to celebrate Pat's life on Tuesday from 6:00PM to 8:00PM held at the Madison Memorial Home, 159 Main Street, Madison.
Memorial donations may be made to the Florham Park First Aid Squad, 60 Felch Road, Florham Park, NJ 07932
For additional information or to share an online condolence with Pat's family, please visit www.madisonmemorialhome.com