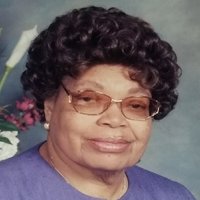 Dorothy Hackett
Dorothy Hackett, age 91, was born into this world on September 26, 1926 in Colombia, SC to the late Fred White and Willie Mull. She was peacefully called home to the Lord on Monday, December 4, 2017 at Morristown Medical Center after a long illness.
Dorothy leaves behind one daughter, Elizabeth Harden; one son, Aaron Harden; her step-children, Gail Toney, Donnie, James & Wayne McCollough; and her sister, Lucille Reese. She was blessed with five grandchildren, her 2 granddaughter-in-laws, Vivian Umenei Harden & Carellen Harden; and six great-grandchildren. Dorothy was predeceased by four of her children, John, Linda, Donna & Daniel Harden; and three grandchildren, Larry, Deidre and James D. Harden.
Dorothy was raised in Morristown and was a life-long resident. She was the oldest living member of the Church of God in Christ for All Saints Church in Morristown, becoming a member as a child shortly after the church was established. Before her retirement 30 years ago, Dorothy ran a daycare from her home and cared for many Morristown residents. She was also a bus driver with the Morris School District for many years.
Dorothy was a woman of great faith and strong will. She will be deeply missed by her family, friends and all who knew her.
Relatives and friends are kindly invited to attend a visitation for Dorothy, held at the Church of God in Christ, 3 Rowe Street, Morristown, on Sunday, December 17, 2017 from 4PM to 6PM, followed by a 6PM funeral service. Entombment will take place at 10:30AM the following day at Restland Memorial Park, East Hanover. Funeral arrangements entrusted to the Madison Memorial Home.
In lieu of flowers, the family has asked that donations be made in Dorothy's memory to The Church of God in Christ, 3 Rowe Street, Morristown, NJ 07960.
For further information or to share an online condolence with Dorothy's family, please visit www.madisonmemorialhome.com