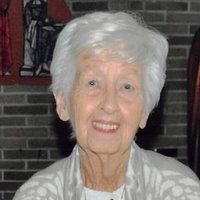 Mildred Hartwell
Mildred Clara May Hartwell (nee Steinbrugge), a long-time Florham Park resident, passed away peacefully at Morristown Medical Center on Sunday, September 17, 2017 surrounded by her family. She was 89.
She leaves behind her beloved husband of 70 years, Frank Hartwell; one daughter, Louise Hartwell Bennett of Florham Park; one son, Phillip Hartwell of Florham Park (Annie); and one brother, Elmer Steinbrugge of St. Louis, MO. Mildred was blessed with 5 grandchildren, Matthew Bennett, Gregory Bennett, Jillian Mangiafridda, Graham Hartwell, Alexander Hartwell, and 5 great-grandchildren, Matthew, Lindsey, Gavin, Greyson, and Frank. She is also survived by numerous nieces and nephews.
Mildred was born and raised in St. Louis, MO. She lived in Brooklyn, NY and East Orange before settling in Florham Park with her family in 1956. She and her husband Frank were charter members of Good Shepherd Lutheran Church in Florham Park. Mildred's life was devoted to her family and she took great pride in her home. She also worked as a crossing guard with the Florham Park Police, stationed at the Holy Family School, where she is remembered fondly by generations of students. She was also an avid bowler and a member of the Madison Elks Lodge #1465.
Relatives and friends are invited to attend a visitation to celebrate Mildred's life on Wednesday, September 20, 2017 from 5:00PM to 7:00PM at the Madison Memorial Home, 159 Main Street, Madison, followed by a 7:00PM funeral service held at the funeral home. Interment will be held privately.
In lieu of flowers, memorial donations may be made in Mildred's memory to the following:
Florham Park P.B.A. Local #78, PO Box 212, Florham Park, NJ 07932
Florham Park Fire Dept., 315 Brooklake Rd., Florham Park. NJ 07932
Florham Park Memorial First Aid Squad, 60 Felch Rd., Florham Park, NJ 07932